RSVP NOW For our November Tutor Orientation and Training.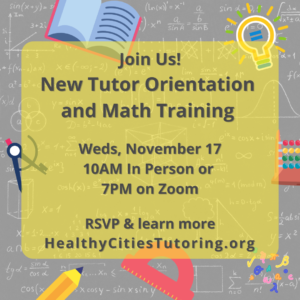 Join other new tutors and learn more about HCT and our program, meet our staff and have all your questions answered!
Following the orientation session is our Tutor Math Training led by HCT staff and teachers from our schools. Learn valuable techniques for engaging and supporting your student.
RSVP for 10AM Tutor Orientation and Training
RSVP for 7PM Tutor Orientation and Training
New Tutor Orientation: 10 – 10:35AM or 7 – 7:35PM
If you have not tutored with us, this session covers everything you need to know to get started with a student!
Tutor Math Training: 10:45 – 11:30AM or 7:45 – 7:45PM
Interactive training with strategies for how to teach math to students from K to 8th grade. Chance to ask questions to follow the meeting.
October 13 Tutor Orientation and Training: Presentations and Handouts
Handouts from October 13, Tutor Orientation and Training Workshop
---
Read below for more strategies and worksheets for use during your tutoring sessions.
1. Helping your student
3. Tutor Binder
---
And don't forget to check out our blog for announcements and news about Healthy Cities Tutoring!

---
Read the latest "Tutor News" for important and practical information when you are an active tutor. (Looking for an older Tutor News? Go to the Tutor News archives).
---