Our Mission
Healthy Cities Tutoring helps kids who struggle to succeed in school. Community volunteers provide one-on-one tutoring and mentoring for children to improve their academic performance, engagement in learning and self-esteem.
---
History
Healthy Cities Tutoring began in 1996 as a dream of school and community leaders seeking to support children and families in San Carlos. This intergenerational program was piloted at one elementary school in early 1997 and quickly expanded to provide support to struggling students at seven schools in the San Carlos School District.
In January of 2014, services were initiated at Clifford School in the Redwood City School District. Healthy Cities Tutoring was invited by the school principal to support the at-risk students in kindergarten through eighth grade. In 2015 services were expanded to Connect Community Charter School and Fair Oaks Community School in Redwood City in partnership with the Sheriff's Activity League.
501(c)(3) Nonprofit Established
Healthy Cities Tutoring was administered by the City of San Carlos for the first thirteen years. Due to increased budget demands placed on both the City of San Carlos and the San Carlos School District, the program lost most of its funding in June,  2011. The community and its many supporters did not want the program to disappear with the loss of funding.
Recognizing the significant need for the program for the hundreds of children and families that benefit from the one-on-one support provided by the community volunteers, the program was reestablished as a 501(c)(3) nonprofit organization in September 2011. Health Cities Tutoring is committed to ensuring every child has the support necessary to achieve to their full potential; we know that their achievement creates a healthy, safe and thriving community.
Back to top of page

Schools served 2022-2022
Arundel Elementary School, San Carlos
Brittan Acres Elementary School, San Carlos
Heather Elementary School, San Carlos
White Oaks Elementary School, San Carlos
Arroyo Upper Elementary School, San Carlos
Mariposa Upper Elementary School, San Carlos
Central Middle School, San Carlos
Tierra Linda Middle School, San Carlos
San Carlos Charter Learning Center, San Carlos
Clifford School, Redwood City
Connect Community Charter School, Redwood City
Henry Ford Elementary School, Redwood City
Kennedy Middle School, Redwood City
Orion Elementary School, Redwood City
Board of directors
Jay Strauss, President
Kerry Folan, Vice President
Michael Garb, Treasurer
Debbie Denton, Secretary
David Camarena, Board Member
Daniel Guhr, Board Member
James Pritts, Board Member
Cynthia Fernandez-Rios, Board Member
Irene Ruiz, Board Member
Dan Taylor, Board Member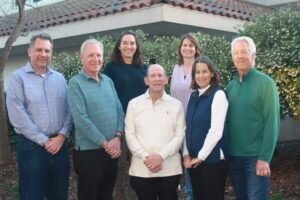 (from left: Daniel, Jay, Irene, Michael, Kerry, Debbie, Dan)
Staff