To sign up as a tutor right away, click the blue button

Watch an introduction video
In  4 short minutes your will get a great overview of what our program is about. This video is from our 2019 Volunteer Recognition Event, hear from our Executive Director, city officials, tutors and students, and more!
Even though this video is a several years old now, it's a heartwarming video featuring inspirational stories from students and tutors, school officials and founding director, Donna Becht.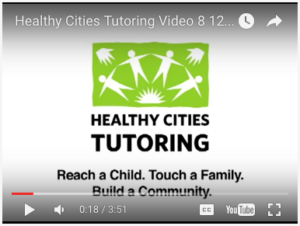 Frequently Asked Questions
For the 2021/22 school year, is tutoring in person or remote?
Both. Schools are allowing in-person tutoring to occur on campus if the tutor can provide proof of vaccination and follow health protocols. For tutors who wish to remain remote, we will match you with a student who is also available remotely.
HOW MUCH TIME WILL I NEED TO GIVE TO THE PROGRAM?
You can have an impact on a child's education in just one hour per week. As a Healthy Cities tutor, your time, attention and encouragement will help a student grow and gain confidence.
What is the minimum age to become a tutor?
You have to be either in 8th grade or 14 years old to become a Healthy Cities tutor.
DO I NEED EXPERIENCE?
No tutoring experience is necessary. Our tutors are people just like you: caring adults, teens, retirees, educators, and members of service clubs like Rotary and Kiwanis. We provide training and support. All you need is a little time and the desire to help a child succeed.
HOW OLD ARE THE STUDENTS I WILL BE WORKING WITH?
The students are elementary and middle school students, ages 5-14 (Kindergarten through 8th grade).
WILL I BE WORKING ONE-ON-ONE WITH A STUDENT?
Yes. Our program is designed with a student to tutor ratio of 1:1. We will match you with a student that you can work with on a weekly basis.
HOW AM I MATCHED WITH A STUDENT?
We work closely with teachers and school administrators to match students with the right tutor for their unique needs and situation.
HOW FLEXIBLE ARE THE SCHEDULED TIMES?
You will be able to schedule your tutoring time to work with your schedule and the family's schedule. It could be during their school day or after school and sometimes later in the afternoon or even weekends.
HOW LONG WILL I NEED TO COMMIT TO WORKING WITH THE STUDENT?
We ask for a commitment of six months. Tutoring typically takes place during the school year. Some of our tutors develop a bond with their student and stay with them for years. The commitment will vary, depending on the student's needs and your availability.
WHERE DOES THE TUTORING TAKE PLACE?
Tutoring usually takes place at the student's elementary or middle school (San Carlos School District and Redwood City School District) or at one of the public libraries.
WILL I RECEIVE TRAINING/SUPPORT?
We provide training and when you are matched up with a child, his/her teacher will also give you guidance and instruction to help make the most of your weekly one-on-one sessions. We also have volunteer coordinators at each school who can provide additional support.
WHAT WILL I BE WORKING ON WITH THE STUDENT?
Typical things tutors work on with their student may include homework, reading, math skills, organization, study skills, building self-esteem and mentoring.
CAN I CONNECT WITH OTHER TUTORS IN THE DISTRICT?
Yes, contact us and we can put you in touch with other tutors in the program so you can share techniques, tips and tricks to help your students succeed.
CAN I GET SERVICE HOURS TO MEET HIGH SCHOOL REQUIREMENTS?
Yes, we will be happy to sign off on the hours you work as a tutor with the student.
WILL I BE FINGERPRINTED?
Yes, all applicants over 18 will need to be fingerprinted (minimal or no cost to applicant).
WHEN CAN I START?
Tutoring is done during the school year. Needs will present themselves throughout the year, so anytime is a good time to start helping a child!
HOW DO I SIGN UP?
Click the button to sign up!