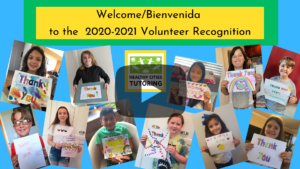 Become a tutor
A great and most rewarding way to give back to your community is to become a tutor. Some key points of our program: One hour a week – Flexible times – No previous experience needed – Ages 14-99 – Training provided – Earn community service hours. Click here for more information.
Donate
Make a difference in a child's life and give!  We are working everyday to ensure that every child on our wait list has the gift of a caring tutor. Please help a child succeed in school and in life by clicking the DONATE button to make your gift. Click here to donate.
News
---
Our response to COVID-19
Healthy Cities Tutoring is committed to serving our current students through the  2020-2021 school year via remote tutoring. Check the Remote Tutoring FAQ page to get answers to questions you might have. You can find school district information at the San Carlos School District website and the Redwood City School District website.
---
Find the current Heroes and Highlights here.