All Are Invited to our Annual Volunteer Recognition Reception!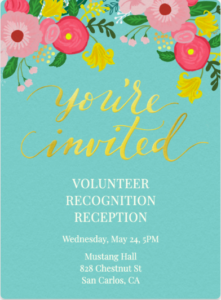 Please join us to celebrate our 2022-2023 volunteers! This year, we matched 398 student/tutor pairs. That's 398 students and volunteers meeting weekly across Redwood City and San Carlos schools, on campus and at public libraries; 398 families receiving support from their community; 14 schools and dozens of classrooms benefitting from better student engagement and higher academic achievement; local communities and residents enjoying greater feelings of well-being because they are contributing to an amazing and affirming cause. The impact of our program is far-reaching and overwhelmingly positive – our students, their families, educators and volunteers tell us so.
We hope you'll RSVP to attend and celebrate our remarkable volunteers and the incredible results they make possible.
Tutors can RSVP here.
Families can RSVP here.
Other community members can RSVP here.

A special day is coming! Give Where You Live – May 2, 2023
Our annual 24-hour day of giving is Tuesday, May 2, and we are excited to announce that longtime HCT champions, Beth and Mike Hunkapiller, will generously match every donation, dollar for dollar, up to $30,000! Thank you Beth and Mike!
Visit our Give Where You Live page here to donate now and support the amazing community volunteers who show up week after week to help students do better in school.
Look for us out in the community in the coming weeks and especially on Give Where You Live day!
Saturday, April 22 – Visit our booth at the San Mateo Farmers Market (College of San Mateo)
Saturday, April 29 – Visit our booth at the Redwood City Farmers Market
Tuesday, May 2 – Visit our booth at several locations throughout Redwood City and San Carlos
Thank you for a Perfect Perfect Pairings!
It was delightful to see so many friendly faces in person on Sunday at Perfect Pairings. Thank you for your generosity and good cheer during our event, we hope you enjoyed it as much as we did! We raised $33,530 towards our Fund-A-Pair goal!
It's incredible and humbling to know you support our mission and the difference our volunteers make.
At the new and unique Skyway Center we celebrated the positive impact Healthy Cities volunteers make when they support local students. Hundreds of children and families receive individualized help; educators and administrators at 15 schools in Redwood City and San Carlos witness increased academic achievement, engagement in learning and enhanced self esteem; and, communities benefit from residents who step up and help children in local school districts.

Become a tutor
A fun and rewarding way to give back to your community is to become a tutor. Some key points of our program: One hour a week – Flexible times – No previous experience needed – Ages 14-99 – Training provided – Earn community service hours. Click here for more information.
Donate
Make a difference in a child's life and give!  We are working everyday to ensure that every child on our wait list has the gift of a caring tutor. Please help a child succeed in school and in life by clicking the DONATE button to make your gift. Click here to donate.
News
Scholarship applications are now available
Find the current Heroes and Highlights here.