No act of kindness, no matter how small, is ever wasted. – Aesop
Dear Tutors,
It was wonderful to see so many friendly faces and hear tutor/student pairs share their experiences at our annual Volunteer Recognition Reception last week. Thank you for all you've done this year! Your willingness to try new things and make remote tutoring work helped over 360 students in Redwood City and San Carlos this year.
Summer break is fast approaching! The last day of school for all students is June 10, except Connect School in RWC, which is June 4. We hope you have scheduled your last meeting with your tutee to wrap things up for the year.
Volunteer Certificate and Lawn Sign Pick Up – Last Chance!
Please drop by tomorrow, Thursday, June 3, 2pm – 5pm to the Healthy Cities Tutoring office at 828 Chestnut Street, San Carlos, to pick up your tutor gift, certificate, and lawn sign (optional). Certificates that are not picked up will be mailed. If you would like to have a lawn sign delivered, please sign up here. 
Upcoming 2021/22 School Year
Stay tuned for news of our fall tutoring program. We intend to return to in-person tutoring as soon as possible, however there may be the opportunity for some tutoring to occur remotely if it works best for the tutor and student.
There is lots of news to share – please read to the bottom of this newsletter to learn about:
End of Year Feedback surveys are being sent.

Volunteer Recognition Event – celebrating our high school scholarship winners, multi-year tutors and more!

Lawn Signs – sign up below to help raise awareness about HCT.

HCT Staff Changes.

Summer ideas to stay in touch with your student.
We hope you have an enjoyable summer and find time to relax. Thank you again for everything you do to help students do better in school. You really make a difference!
– Your Friends at Healthy Cities Tutoring
End of Year Feedback Surveys
Help us improve our program by giving feedback via our End Of Year Surveys coming to your email inbox this week.
The online feedback forms are short and easy to complete. Your opinion matters! It helps us improve our program to better ensure student success and volunteer satisfaction and engagement.
Congrats Graduates
and Scholarship Winners!
Wishing our high school seniors the best of luck on the next stage of their educational journey! This year we had 137 high school students volunteering one hour a week to help children in our community. Wow!
Congratulations to the eight (8) winners of our 4th Annual Scholarship Awards.
Click here (20-minute mark) to learn more about these high school tutors and how volunteering has had a positive impact on their lives.
Volunteer Recognition Reception
Our volunteers are incredible!  This year you've stretched in new and different ways, we truly appreciate all you've done for the kids in our community!
You helped us reimagine our program to accommodate remote tutoring and you stepped up for students!
Click here to watch our short Volunteer Recognition Reception video and hear about the amazing impact volunteers like YOU have on the students in our program.
Celebrating Years of Commitment!
To watch the full Volunteer Recognition Reception and celebrate the achievements
of our volunteers this year please click here.
Show your HCT pride with a lawn sign! To have one delivered, please sign up here.
We will pick it up in a month.
Saskia Teerink, our Program Manager, is retiring after 13 years with Healthy Cities. We can not imagine the office without her, though we are happy she will be traveling and enjoying time with family. We are grateful for all that Saskia has contributed to HCT, ensuring our success and growth over many years!
Cynthia Wiggin, our training coordinator extraordinaire, left last November and we are so thankful she continues to share her many talents with us whenever she can.
Bridget Schum joined HCT as a tutor and Site Coordinator in 2018 and a staff member in 2019. We wish her well as her family relocates to Portland, OR. We will miss her energy and creativity and appreciate all that she brought to our small team.
Please join us in thanking all three for sharing their amazing talents with us and touching so many lives. We wish them all the best!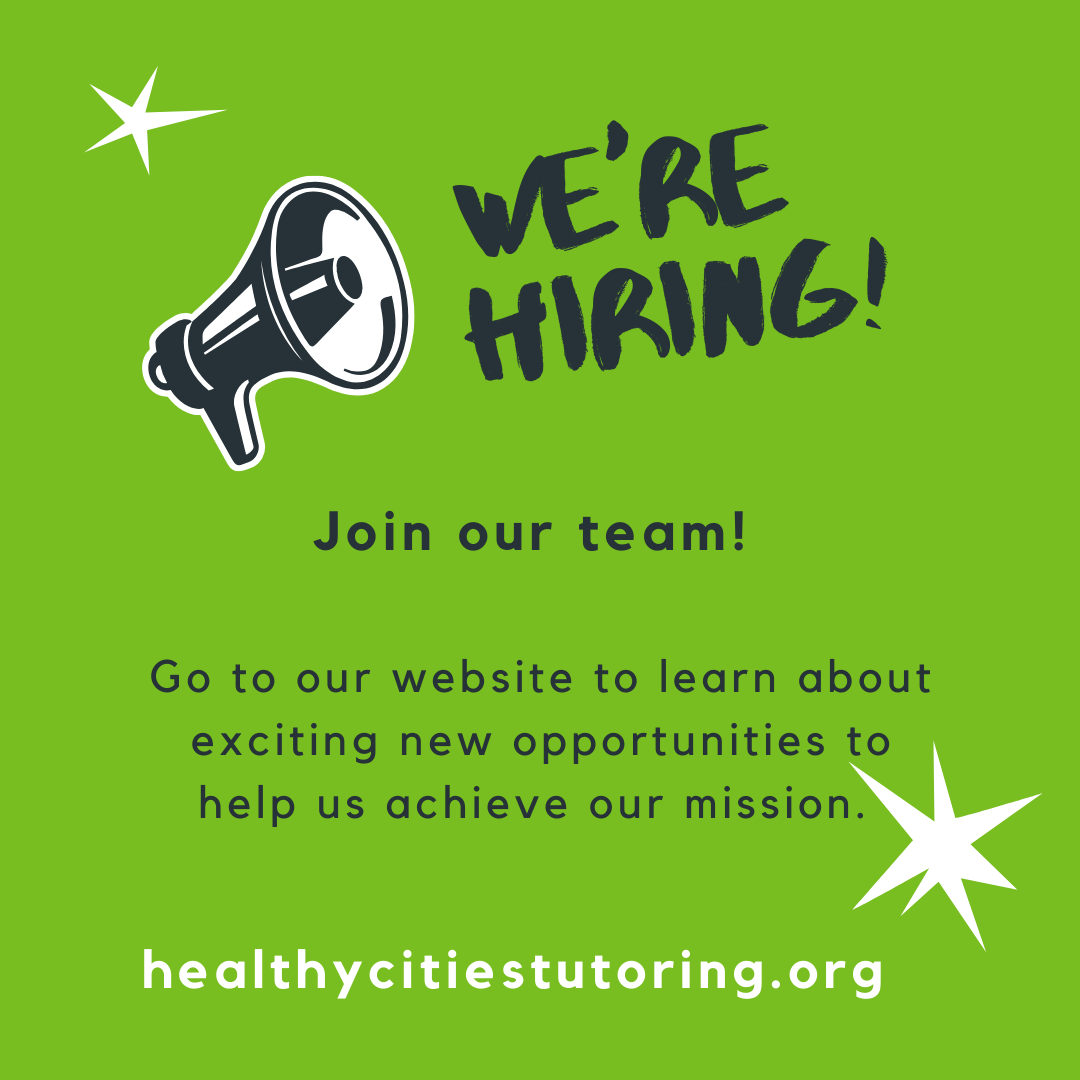 Join the team at Healthy Cities Tutoring! We are looking for a collaborative, community-oriented individual to fill the role of Program Coordinator. Please visit our website here for the job posting.
Community Foundation of San Carlos
Is encouraging community organizations and residents to take the 21-day Social and Racial Equity Challenge during June. Spend 10-15 minutes a day reading, watching, and responding to information and prompts provided.  For more details and to sign up, visit their website.

Summer Tutoring
Our tutoring program follows the school calendar with holidays and summer off. Tutoring over the summer is not expected or required, but might be an option for some of you. If so, you can make arrangements with your student's family. Or you can keep in touch with a postcard, letter, email or text over the summer. Please feel free to reach out to HCT staff if you have any questions or would like support in replying to requests for summer tutoring.
Our Contact Information
*{{Organization Name}}*
*{{Organization Address}}*
*{{Organization Phone}}*
*{{Organization Website}}*
*{{Unsubscribe}}*