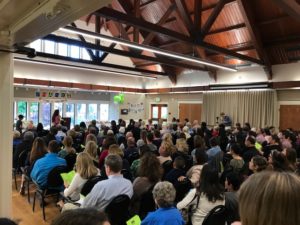 On Tuesday, May 15, Healthy Cities Tutoring held its 22nd annual Volunteer Recognition Reception to celebrate and honor the 404 volunteers who made a difference in the lives of our students this year.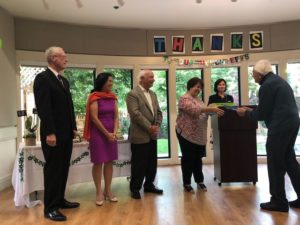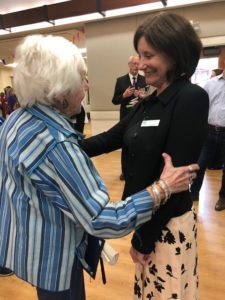 The room in the Adult Community Center in San Carlos was filled to the brim with Healthy Cities volunteers, teachers, parents, students and supporters from the community to celebrate this year's volunteers.
The reception began with opening remarks from San Carlos Mayor Bob Grassilli, San Carlos School Board Board President Eirene Chen, Redwood City School Board Vice President Dennis McBride and  Healthy Cities Tutoring Board member Marianne Jett. Additional speakers at the event included parent Natalie Berg, tutors Christine Louie
and Hans Logie, student Jaydon Vazquez and parent Vanessa Patino.
Certificates of appreciation were handed out to all of the volunteer tutors. In addition, HCT was proud to honor the tutors who have reached a noteworthy tutoring anniversary:
20 years Tutoring Award Recipient:
15 years  Tutoring Award Recipients:
Sharon Gee
Lauren Pachkowski
10 years Tutoring Award Recipients:
Mike King
Andy Klein
Donna Williamson
5 years Tutoring Award Recipients:
Joe Brennan
Georganna Butts
Paul Caamano
Mardee Costa
Kathy Diekroeger
Paula Ebejer-Moffitt
Andrea Hernacki
Katie Kenning
Chris King
Barbara Louie
Joan Mannion
Megan Murray
Jean Oxton
JD Paul
Mia Rosenblatt
Janet Soli
Jay Strauss
Betty Strombom
Nancy Tovar
Many thanks to all of our volunteer tutors and the support form the broader community that makes this work possible!