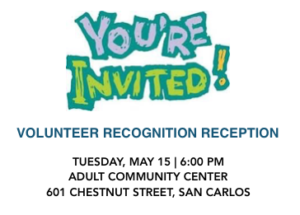 Please join us for our 22nd annual Volunteer Recognition Reception as we honor the 2017-2018 Healthy Cities Tutoring volunteers. Everyone involved in the program is welcome: tutors, students, parents, teachers, staff, donors and community members.
All volunteers will receive a Certificate of Appreciation and a small gift of thanks. Refreshments will be provided following the program.
To rsvp click here. For questions or more information call (650) 508-7327 or email Donna Becht at dbecht@healthycitiestutoring.org.
We hope you will join our celebration!