Are you reading with your student during your tutoring session over Zoom? Do you wish you had a copy of the book your student is reading with/to you?
Here are some resources where you can find YOUR copy of the book online:
FREE ONLINE READING RESOURCES:
Hoopla app – Hoopladigital.com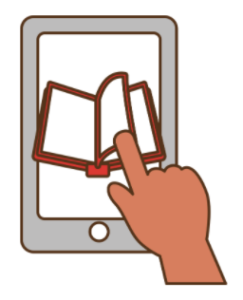 You access Hoopla online or on the Hoopla app on your phone.  You do need a library card to access it. (See below for applying for a card if you don't have one)  What is great about this option is that all the books that are listed are available right away.  No holds, no waiting.  You can also borrow audiobooks, music and movies all in the same place.  When you go to sign up, choose "San Mateo County Libraries" as your library system and enter your library card and PIN.  Once you are signed up you can access the app directly.  You get 20 borrows a month for free!
Libby app  – Libbyapp.com
This is an online borrowing app from Overdrive.  This is a way you can check out e-books and audiobooks from our local San Carlos Library.   You can find it in the app store on your device/phone or you can access it from your laptop. You will sign up one time with your library card and then you will get free access from then on.
Need to get a Library card? – https://smcl.org/card-services/get-a-card/
You can apply for a library card even while you're stuck at home. The Access Services team emails the applicant his/her library card number and pin within 1 full business day. Physical cards will be mailed out later on as we're allowed back into the libraries.