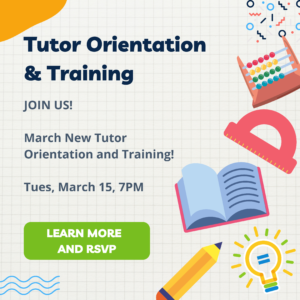 Did you miss our January and February training? Have questions you'd like to ask? Join our March New Tutor Orientation & Training to learn more about being a tutor and working with your student in different subjects like math and language arts.
7pm – 7:35pm | New Tutor Orientation: If you have not tutored with us, this session covers everything you need to know to get started with a student!
7:45pm – 8:30pm | Tutor Tips Workshop:Interactive training with strategies for how to work with tutees in all subjects.