Healthy Cities tutoring provided tutors for almost 500 students at 14 schools in San Carlos and Redwood City during the 2019-20 school year. Additional tutors are needed again this year to meet the need. Due to the pandemic we will switch from in person tutoring to online tutoring.
Volunteers range in age from 14-96 and no prior tutoring experience is needed – just an interest in helping a child for 45 minutes once a week and the technical capability to connect online.  Scheduling is flexible, before, during or after school. Training will be provided.
TRAINING INFORMATION FOR SEPTEMBER 15
What will be covered?

short orientation for new applicants
majority of the time will focus on how to make an online tutoring session successful

Where: in the comfort of your own home
When: Tuesday,

September 15

Time: Two identical sessions offered: 10:00-11:00 am and 7:00-8:00 pm (rsvp below)
 We need more tutors like YOU! Hope you can join us on 
september 15!
If you can't make the September 15 training, no worries! We will record the session and have scheduled an additional training for October 21 (details to follow later).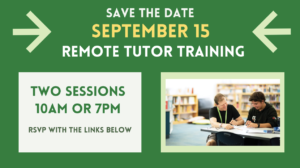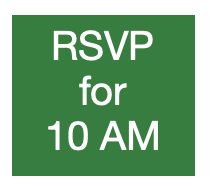 Click here if you would like to attend the morning session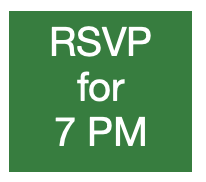 Click here if you would like to attend the evening session