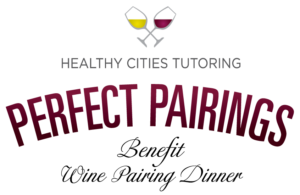 Ticket sales have ended. If you are interested in attending, please contact Karen Molinari at karen@healthycitiestutoring.org or call the office at (650) 508-7327 to see if tickets are still available.
Where: Domenico Winery, 1697 Industrial Road, San Carlos
When: Friday, February 28, 5:30-9:00 pm
We gratefully acknowledge our 2020 sponsors!
MAGNUM SPONSOR
Guhr Family
GOLD SPONSORS
Black Mountain Properties
Chang Orthodontics
Michael & Judy Garb
Yael Goshen & Dylan Smith
Joyce and Tatum Real Estate Team
Lyngso Garden Materials
San Carlos Orthodontics, Dr. Gary Lau
SILVER SPONSORS
W.L. Butler
Dome Construction
Cathy &  Ron Granville
Jan Kang & Jim Kirchner
Leslie & Greg Loomis
John McAfee, State Farm Insurance
Karen Molinari & Michael Evert
Steiner & Pachkowski, Attorneys at Law
BRONZE SPONSORS
Cris & Todd Adair –  Heather & Mak Azadi –  Amy Blodgett & Bill Stafford
John Boghossian, DDS – Eirene Chen  & Stephen Cottrell – Brian & Jean Cole
Gayle and Ron Collins – Debbie & Paul Denton – Roy & Janet Dorling
Carrie Drake – Mindy & David Hill – Frank Hsu, DDS
Andy & Shara Klein – Recology Inc. – Mark and Lisa Schiavenza
Joyce & Jay Strauss – Dan Taylor & Carol Rhodes – Veritas Homes – Cynthia & Andy Wiggin

If you have questions about sponsoring Perfect Pairings, please contact Nancy Bardsley at nancy@healthycitiestutoring.org.